By using LMG, you can easily measure diameter, roundess, runout, straightness and crown in shape.
There are many types: Semi Automatic System, Automatic System etc.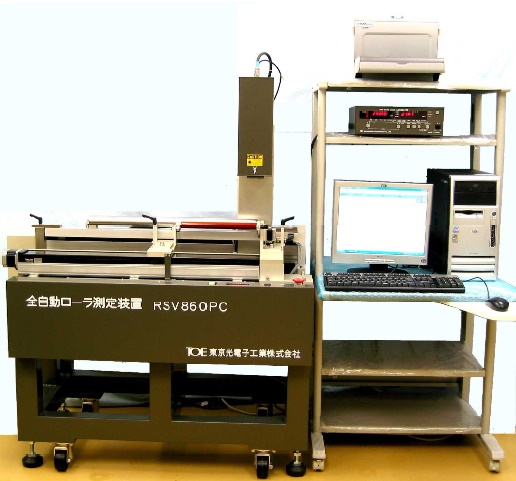 STANDARD AUTOMATIC SYSTEM
Except taking a roller on and off, this system performes not only measurement but also data processing and printout automatically. In advance, you register items of measurement (diameter, roundness, runout, crown shape, etc. positions of measurements and kind of data.) according to a kind of roller.
When measuring, call the needed kind of roller and type the measuring number of objects, and push a start key. This system starts automatically.
■EXAMPLE RSV860PC
・Object Dimension
Diameter:    Max.80mm
Length:       Max.600mm
・Accuracy
Diameter :   ±5µm
Runout :        7µm
・Measuring Time
About 20 sec( at 3 points)
■SEMI-AUTOMATIC SYSTEM
RMV, RMH series
RMV series is a vertical type and RMH series is a horizontal type. RMV series is easier tha RMH series in case of taking on and off the object.
As the object is rotated by a motor, the rotation speed and time can be switched.
EXAMPLE RMV660

・Object Dimension
Diameter :     Max.60mm
Length :        Max.600mm

・Measuring Items
Diameter and Runout

・Accuracy
Diameter :    ±4µm
Runout :         7µm   
■AUTOMATIC SYSTEM FOR ONE KIND OF OBJECT
This is a system for large quantity of measuring objects.
By using several LMGs, the measuring time becomes much shorter.
EXAMPLE

・Object Dimension
Diameter: Max.20mm
Length :   Max.400mm

・Measuring Items
Diameter and Runout at both sides and center

・LMG
LMG 305PIII 5 sets

・Measuring Time
About 3 sec/ one object