REEL LITE®- Ultra-Compact Reels for Fiber Optics
Revolutionary Improvement in Optical Fiber Length Management
| | |
| --- | --- |
| | |
| Reeling of fiber using a hand spooling jig, "Spool Holder | Fibers can be removed from the coiled reel |
Reel Lite will…
– Allow quick and easy taping-free spooling and storage of Φ0.25mm bare, Φ0.9mm and ribbon fibers.
– Facilitates removal of spooled fibers.
– Eliminate the burdensome work of extra fiber length management from device production and processing of terminals.
– Offers a variety of sizes and types that suit your needs (Choose from 2 sizes and 3 types of products depending on the fiber length, material and specific environmental requirements, such as frame resistance and lower gas emission.).
– Contributes to the management of extra fiber length of FTTH lines.
Specifications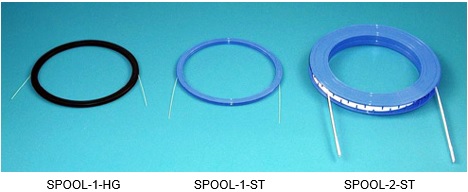 – SPOOL-1-HG, a flame resistant model with lower gas emission, is recommended for mounting inside equipment and vapor deposition.
– SPOOL-1-ST is highly economical and suitable for terminal processing, packaging and shipping.
– SPOOL-2-ST is ideal for processing of core fibers and tape fibers as well as for the storage of extra length of fibers for FTTH cables.
Product Name
REEL LITE
Model
SPOOL-1-HG
SPOOL-1-ST
SPOOL-2-ST
Color
Black
Blue
Spooling
Φ0.25mm Bare fiber
5m
Approx. 150m
fiber length
Φ0.9mm fiber
–
Approx. 10m
(Maximum)
Φ3.0mm Cord
–
Approx. 1m
 
12-core ribbon fiber
–
5m
External diameter of spool
Approx. Φ72mm
Approx. Φ89mm
Internal diameter of spool
Approx. Φ64mm
Approx. Φ64mm
Material of spool
Special rubber A
Special rubber B
Applicable temperature range
-40 °C ~150 °C
Accessory Parts
Spool Holder

A jig for easy reeling of optical fiber. Sold in a case of 12. (See the photo on the right.)
* Compatible with SPOOL-1size only
Remover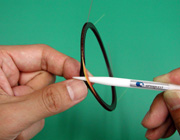 This tool allows you to take the fiber off the Reel Lite in a wound bunch without scratching or damaging the fiber thanks to the special finish of the tip.
* Compatible with SPOOL-1& 2 sizes