Polarization controllers manually produce various polarization states by rotating two axes of λ/2 and λ/4 plates. This product combines them as units and can hold up to 8 units in a 3U rack. This product is recommended to be used when testing each channel.
Features
– Low loss, low loss fluctuation, and high return loss
– All units are compatible with other optical delay lines and wavelength tunable filter units, and they can be arbitrarily combined within a rack.
Typical Specifications
Model
RPCA
Insertion Loss
< 0.8dB
(including loss fluctuation)
Loss Fluctuation
< 0.1dB
Return Loss
> 50dB
Waveplate Configuration
λ/2, λ/4 waveplate
Optical Fiber
SMF or DSF or PMF
Optical Adapter
FC or SC
Product Dimensions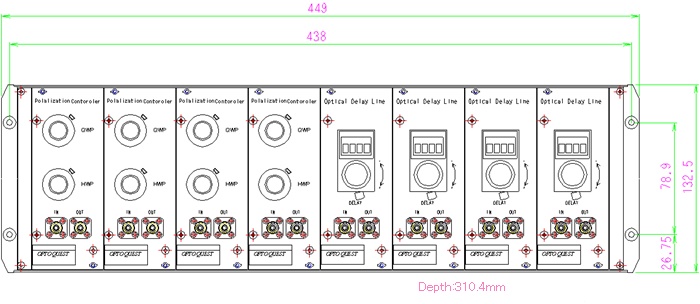 Combination example: RPCA (4ch) + Optical Delay Line RDLA (4ch)
*The Wavelength Tunable Filter Unit and Variable Optical Attenuator Unit can also be combined.