■ LSB-111BAT
Multi-point luminance light source makes luminance feedback, and its color temperature can be changed.
Outputs always a steady luminance by quantity of light feedback control. Calibration is not required daily.
You can change color temperature by electric.
Ten key and external communication control make it possible that fine luminance choice and luminance change at designated pace.
Change of the inspection sequence is easy by 99 points of luminance and memory block for color temperature designation.
Control indicator and light source unit combined depending on a work layout.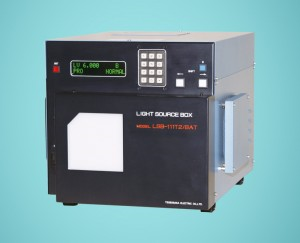 Specifications
Luminance
[2856K]2.5-18000(cd/m2)
4-17(LV)
[4870K]2.5-3200 (cd/m2)
4-14.5 (LV)
Luminance change
Numeric key, Pitch, Memory, External control
Luminance surface
100mm x 100mm
Uneven luminance
±2.5% (φ80mm)
Color temperature
Electric switching
2856±100K
4870±150K (You can specify)
Light source
Halogen lamp
Exteranal control
RS-232C
Power supply
AC100-240V, 50/60Hz
Power consumption
About 480VA
Dimentions
367(W) 306(H) 426(D)mm
Weight
About 16.5Kg