Koshin Kogaku Co., Ltd
ILF is a fiber-optic module including high-quality optical filter with its wavelength fixed at the required vale.
We provide this product assemblying the optical filter after customer chose its optical characteristics.

Specification
Filter
BPF(standard)
FWHM
Cavity
Insertion loss

The follow are specification in SMF.

Please contact us about another characteristic.

1±0.2nm
1
≤ 1.0dB
3±0.3nm
1
≤ 1.0dB
5±0.5nm
2
≤ 1.0dB
Special
Please ask us your request, like that LPF,SPF, and so on.
Wavelength

Please specify the center wavelength range. Tolerance ±0.15nm.
We provide customized modules for other wavelength bands, please contact us for detail.

Fiber
Standard:SMF, Special:MMF,PMF and DSF, and so on.
Connector and Polishing
FC or SC, APC or SPC, and so on.
*Specifications are subject to change without notice.
Feature
■Dimension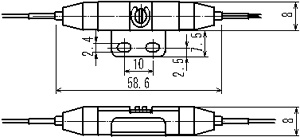 ■High reliability by weld fixed fibers
The fibers are collimated, and fixed by welding.
The minimum gaps of optical axis ensures excellent reliability.
Application
■Research and development for the communication.
 For test and selection of various filters.
 For research and development of optical fiber communications.
■For wavelength selection in WDM system (Combined with a LED/ASE light source)

■For noise cut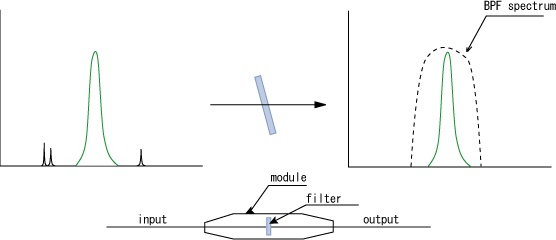 Special order products
■Customization for non-standard wavelength.
360nm band, 500nm band, 850nm band, 980nm band, 1064nm band