HC-200 is an ideal UV spot curing system to cure UV Curing adhesive or UV curing ink.
The lamp HC-200 uses is a high power Mercury-Xenon Lamp, and we cut Infrared wavelength to avoid building up heat of target under curing.
Our proprietary lamp alignment method will not require to turn the lamp on for optical alignment. It will be safe and easy to complete an lamp replacement and optical alignment in a very short time.
Features

Lamp replacement does not require turning on the lamp, thus optical alignment can be done easily. Lamp replacement is much easier and safer with a perfect alignment.
Elliptical mirror has multi layer coating and it minimizes a generation of harmful IR wavelength for UV curing process as much as possible.
User can select specific UV wavelength by adding optional filer set.
Optional lens unit is available which turn HC-200 to become an ideal uniform UV exposure system.
Specification

※Intensity is measured at 10mm from the end of  Quartz fiber bundle with 5mm diameter, 1meter long .
※If you need a spot curing system with a different intensity level, please contact us for a custom  UV curing system.。
※We can adjust output wavelength for 254nm, 313nm, 365nm, 405nm or 436nm  respectively.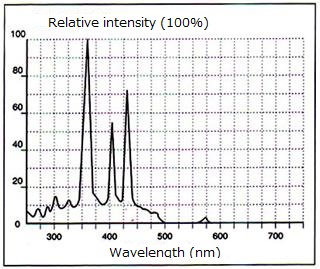 Options
Uniform UV Exposure lens

Uniform lens unit will realize a very  uniform exposure unit.
We offer three different sizes, 30mmx30mm, 50mmx50mm and 75mmx75mm respectively.

Uniform light exposure lens unit

This unique optics generates uniform illumination from an output beam of UV fiber cable. Illumination patters are either square or hexagonal and you are able to adjust focus of illumination at a point of exposure.